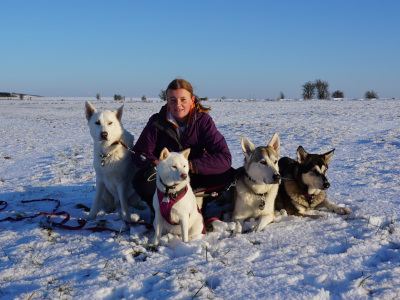 The Association of Nihon Ken Committee - Chair
My name is Lindsey Hiscocks, and having owned Northern Inuit Dogs for 8 years, I finally followed my long-time dream and imported my very first Hokkaido Ken in December 2016 after years of research using the limited information on the Nihon Ken. At the time Kirin was the second Hokkaido to become a resident of the UK and I decided to do all I could to one day get the breed recognised over here, starting up the first Hokkaido kennel with a view to adding more of these beautiful dogs to our family in the future!
Based in Wiltshire, near Stonehenge, when I'm not on the show circuit doing meet-the-breed stands, I'm usually found out on the Salisbury Plain with my dogs. We had our first litter of Hokkaido Ken puppies in February 2019 when Kirin gave birth to four beautiful babies - a white girl and boy and a red girl and boy at our kennel 'Toboetsuki'. Of course we had to keep one, so Satsuki become our second Hokkaido addition to the family!
Additional Roles - Show / Events Officer
Contact - chairperson@nihonken.co.uk (please no unsolicited emails or advertisements)