The Association of Nihon Ken - Rescue
We understand that sometimes, due to changes in circumstances, relationship breakdowns and other genuine reasons, that rehoming your beloved pet may become the only option. Although we do not act formally as a rescue and do not have the resources to offer kennelling or foster care at this time, the Association of Nihon Ken is committed to assisting owners with the safe rehoming of their dogs in any way that we can.
We have a wide network of owners and friends, with contacts across the UK which can help you to find the perfect forever home for your baby.
Please note that we work solely with the medium-sized Nihon Ken breeds who do not already have their own breed-specific rescues (the Kai Ken, Hokkaido Ken, Kishu Ken and Shikoku Ken), if you need to rehome your Shiba Inu or Akita Inu please contact one of the charities specialising in the rehoming of these breeds.
Remember, if you are looking to rehome your Nihon Ken, your first point of contact should always be your breeder, who will more than likely wish to be involved in the rehoming process or may even ask that you return the dog to them. Please consider the contract you made between yourself and your breeder before contacting the ANK for assistance with rehoming. We will happily work alongside owners and breeders to help you find the perfect home.
Dogs Currently Looking For Homes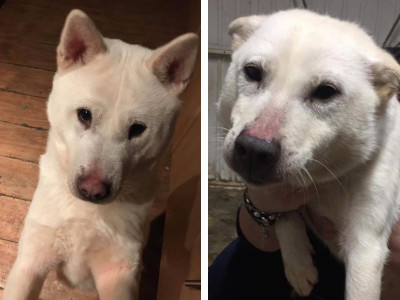 Benny and Dore
We are pleased to say that Benny and Dore are both in wonderful new homes. Good luck on your new adventures!