The Association of Nihon Ken - Events
The Association of Nihon Ken is committed to the promotion of the six Nihon Ken breeds. We endeavour to travel around the country educating the general public about the different breeds at country shows and events. On this page we will keep you updated about any upcoming events that the ANK will be attending.
We are looking for social, well-behaved examples of the six Nihon Ken breeds as well as breed experts to accompany us to events across the country as meet-and-greet dogs. If you would like to join us at any of our events please get in touch by emailing info@nihonken.co.uk and we will provide all of the necessary information. We hope to see you in the future!
Upcoming Events (2021)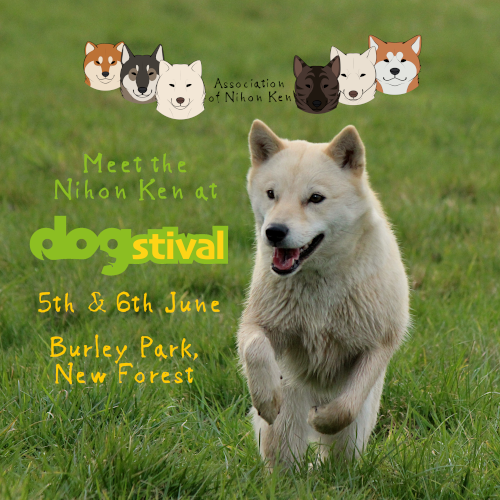 Dogstival - Saturday June 5th & Sunday June 6th 2021, Burley Park, New Forest.
The Association of Nihon Ken are pleased and proud to announce that we have been invited back to Dogstival again this year! Taking place in the heart of the New Forest, Dogstival is a wonderful day out for the whole family, two-legged and four. If you are interested in meeting some of the Nihon Ken breeds, this is a great opportunity!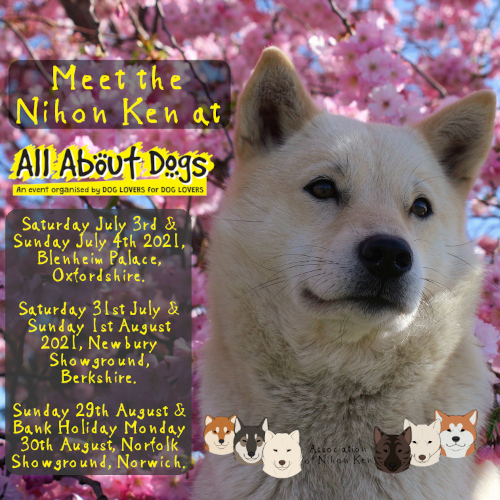 Saturday July 3rd & Sunday July 4th 2021, Blenheim Palace, Oxfordshire.
Saturday 31st July & Sunday 1st August 2021, Newbury Showground, Berkshire.
Sunday 29th August & Bank Holiday Monday 30th August, Norfolk Showground, Norwich.
We are very excited to be making our debut with the All About Dogs show this year, after having to sadly cancel all of our planned events in 2020. All About Dogs is a great day out for everyone with displays, fun shows and have-a-go activities to keep the whole family entertained!
We hope to add other events for 2021...keep an eye on this page and our social media for updates...